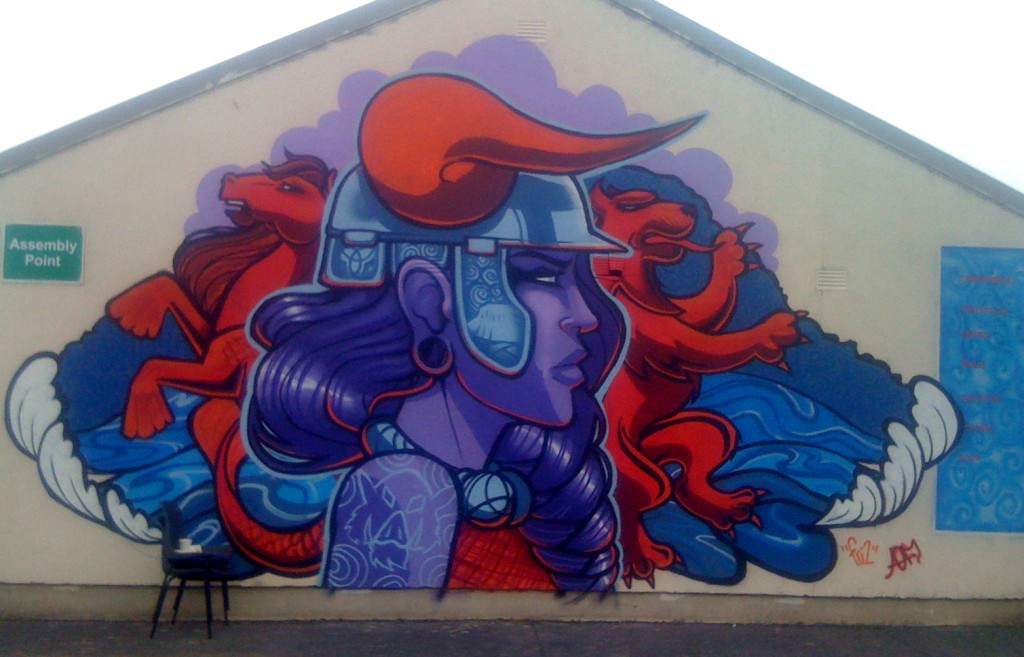 The complete wall painted in Ballinode Community College in Sligo last week. Had a blast working with the 4th yr students on this project. The group had already researched local legends and myths that could be included in mural so we had lots to choose from when we started planning. In the centre is Queen Medb (Maeve/Maebh) who is said to be buried in the grave marked by the cairn on top of Knocknarea, apparently buried standing straight up and facing North (the general direction she is facing in the mural). She wears a helmet ready for battle, adorned with the horns of a bull (reference to AnTáin).
The mound of spirals in the background represent her burial cairn and Knocknarea mountain. The other prominent Sligo mountain, Benbulben, is represented as part of the decorative cheek guard. Benbulben is also linked to the tale of Diarmuid and Gráinne, who's story is also expressed by the boar 'tattoo' on Medb's shoulder.
The two creatures on either side of Medb are a water horse, and a water hound. There are examples of folk stories all over the country and the UK where malevolent animals rise from a body of water and kill or drown a person ('kelpies' etc). I thought it would be striking to have these animals present in a sort of heraldic style. The water symbolises the Garavogue river running through the town to the sea. The two beasts are depicted in reds and oranges to characterize the fires that burned down the local Abbey and the Castle of Sligo.
Phew! We managed to get a lot in! Big up to the 4th Years who did an amazing job. Shout out to Adam and Donna too, and to Ballinode College. There is actually a 'Phase 2' to this project which will see local artisan Enda Clarke creating stained glass elements with the group to accentuate features that have been painted. Very excited to see the outcome of that half of the project and I'll share a decent (dayshent) photo hopefully when it is completed.
YEEEEOOOOOOooooo!