Delighted to be involved in the 'Through the Looking Glass' exhibition which has such an incredible line up.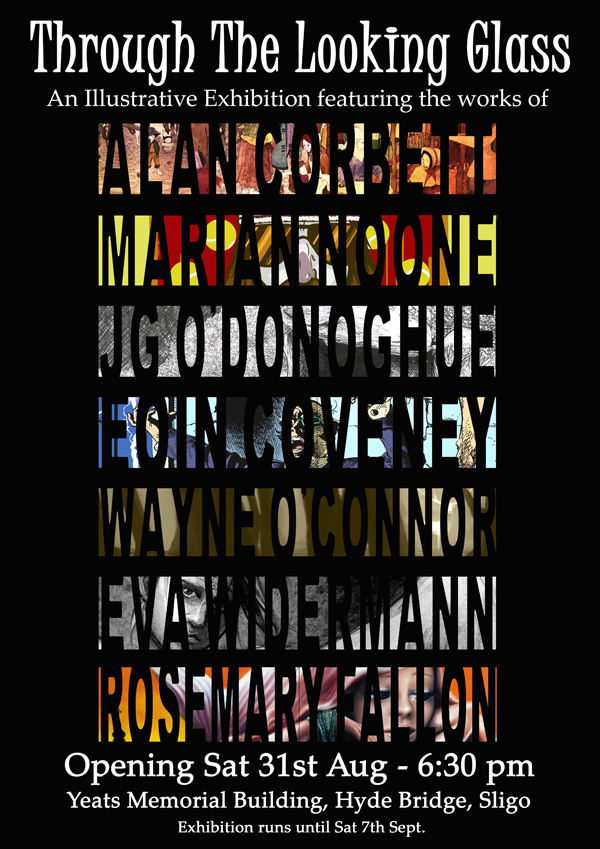 On August 31st, a new exhibition opens in the Yeats Gallery. Entitled "Through the Looking Glass" this exhibition brings together the work of 7 Illustrators and Artists from around the country. With artists from Dublin, Cork, Belfast, Galway and Sligo this show will offer a wide variety of styles and influences.
JG O Donaghue hails from Cork and specialises in archaeological and heritage illustration and art. JG has exhibited extensively and was the key founder of the online Islander Arts Collective.
Alan Corbett is another Cork illustrator who last year released his first Graphic novel, the well recieved "Ghost of Shandon", of which a sequel is currently in the works. Alan regularly runs courses on Comic illustration.
Eva Widermann is a German illustrator specialising in illustration, concept art and character design. Her clients have included Disney and the publishers of the Dungeons and Dragons game series, Wizards of the Coast.
Rosemary Fallon is an emerging Galway artist whose work veers from Surreal painting to sculptural pieces. Rosemary has exhibited extensively and recently has had her work featured as the cover piece for the Galway Fringe Festival brochure.
Marian Noone is a Sligo artist now native to Belfast who has developed a reputation as a highly sought after Street mural artist with her distinctive images to be found all over Ireland. Working under the handle "Friz", her work largely revolves around the female form, creating a world of sometimes sassy, sometimes sensuous characters.
Eoin Coveney has worked as a freelance illustrator for over 17 years with Clients such as Judge Dredd Magazine, The Irish Times, FHM magazine and more. He has also worked under the mentorship of legendary US comics artist Will Eisner.
Wayne O Connor is a Sligo based artist who has worked on a selection of Boardgames and RPG books since going freelance a few years ago. He held his first solo show this year in the Hawkswell Theatre in Sligo.
The exhibition opens in the Yeats gallery space at 6.30pm on Saturday the 31st of August and runs for one week.