Death Carousel Rodeo – Limited Edition Print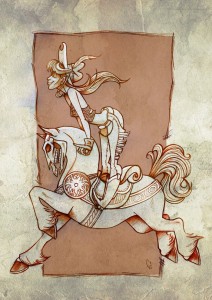 Limited run of prints, get in contact via this email address for details. £30 + P&P
Red Room, Brysons, Magherafelt
Very fun commission for Brysons in Magherafelt to paint the exterior of the Red Room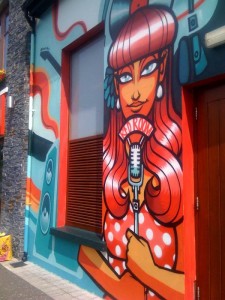 Keadue
Commission in Keadue, Co. Roscommon on the side of the Credit Union building. This is one of the most idyllic villages in Ireland and I got some of that fantastic Irish sun while painting there. The character in this piece is Turlough O'Carolan, a blind early Irish harper, composer and singer whose great fame is due to his gift for melodic composition. He was the last great Irish harper-composer and is considered by many to be Ireland's national composer and has ties with the area.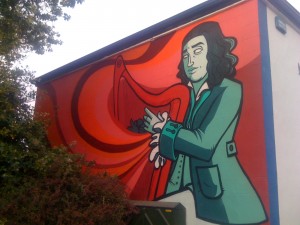 Decked
Finally getting a chance to put up the photos of the pieces from the Decked Exhibition. Hand crafted skate decks by Fall Longboards, custom painted by me.
Photos by Fall Longboards.
Xi'an Warrior
I had the pleasure of being asked to paint a life-sized copy of one of the 'Terracotta Army' of Xi'an, arranged by One World Creative in Belfast. My warrior was decorated with an image of a tiger, in spray paint. It is currently on display at Belfast City Hall.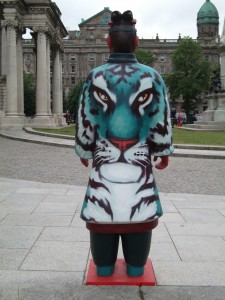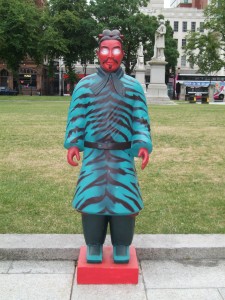 Thomas Street Project
I did a fun paint collaboration with fellow Spoomer KVLR as part of a project by Evolve Urban Art
Our original concept revolved around two opposing chess pieces which somehow escalated to this…
…I want to paint more unicorns!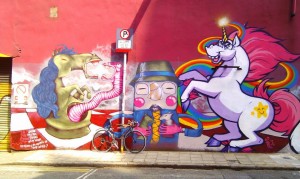 World Police and Fire Games
Did a 2 hour paint at the World Police and Fire Games here in Belfast this past weekend. Shiny Mermaid lady.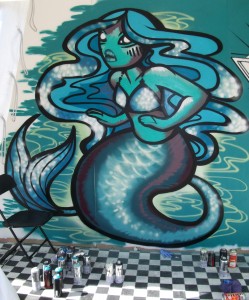 yeo