I did a piece in the T13 skate park in the Titanic Quarter in Belfast a couple of weeks ago where the good folk there set up a time-lapse while I was painting. The finished piece along with the video of the time lapse was featured on the cover of their on-line magazine  'Session 13'. I also did an interview for the mag.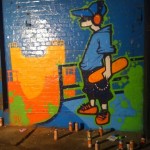 You can check out the magazine at this link : Session 13 Magazine
and while you're at it check out their website : T13
It's a great space to paint in!